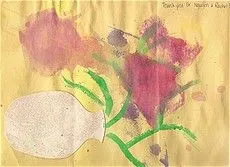 After taking care of a five year old boy who had fallen off his bike and hit his mouth on the handle bars one late Sunday night, we received the following letter and picture from that boy and his mother.
Dear Dr.Nguyen,
We can't thank you enough for coming into the office late Sunday night to see our son. We couldn't have asked for nicer and more patient people to work with. As you mentioned, he was better and ready to eat just minutes after we left. And now five days later, his mouth and gums have almost completely healed. Now, we are looking for a bike helmet that crosses his face, so that he can keep the rest of his teeth! We really appreciate your generosity and expertise.
A patient from out of state had extensive dental work done, and later sends a note.
Dear Dr. Nguyen,
I'm at home doing well after all the dental work, but I wanted to let you know how much I appreciate the expertise, time, energy and patience you and the staff exhibited while working on my teeth. I realize how difficult it must be to work such long hours to accomodate me since I don't live in Colorado Springs, and I thank you for putting in the hours and for the care that you all provided.
Thanks again.
Patient who had doubts about going to the dentist has now changed her mind and wrote a letter of appreciation.
When was the last time you heard someone rave about going to the dentist? My dentist Dr. Phong Nguyen, is super-dooper terrific! He's redone my whole mouth. I've had tons of work done by him over the last year, including root canals and implants- without nitrous, which is amazing for me. I have consistently been happy with his work, his staff, and the process. Appointments are like having a private dentist. He is extremely gentle and caring, dedicated to doing things right and guarantees his work, including materials, which I can vouch for. My recovery from deep work is always amazingly quick and pain-free.
Dr. Nguyen has restored my faith in dentistry.
On Christmas Eve a couple received care and wrote about their experience and appreciation.
We have been very pleased with Dr. Nguyen's dental services. He is thorough and honest. Telling us what needs to be done ahead of time, and how he plans to accomplish it. All procedures are done in his office. One Christmas Eve, Dr. Nguyen and his assistant, came into the office early in the evening to take care of an emergency for my husband. They worked until almost midnight to "save" a tooth. Both Dr. Nguyen and his assistant are very conscientious and caring people.
Our deepest Appreciation.